British



Flag

Imperial Empires: The Campaigns
Continent
Europe
Unique Units
Longbowman
Rocket
Royal Guard Units
Musketeer
Hussar
Features
Building Manor Houses spawns one free Settler each.
Home City
London
Personality
Queen Elizabeth
Civilizations
The British are a people hailing from the British Isles in Northern Europe. In the New World they were one of the strongest colonists, eventually assuming control of the original 13 colonies, which later revolted against Britain to form the United States of America. They also controlled what is today Canada after fighting long and hard with the French.
Description
Edit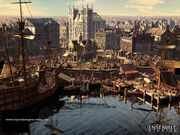 The British can have a powerful economy because they can create Settlers faster than other civilizations. Early in the game you can focus your Settlers on gathering Wood for the Manor Houses so you can get more Settlers.
The British military is very powerful especially later on in the game because of two main units the Musketeers and the Hussars who can later on become upgraded to a Royal Guard level. The British Home City is also very useful because it focuses on its technology and the navy.
If you combine walls with Longbowmen and Rockets, the British can be the best civilization in terms of defense.
Screenshots
Edit