Mill



A Mill

Economic
First Appearance
Imperial Empires: The Campaigns
Cost
50 wood
100 coin
Age Available
Discovery Age
Build Limit
Unlimited
Use
Generating food.
Civilizations
All
Mill is a economic building which provides your colony's food production. It is farmed by villagers.
Home City Seed Cards
Edit
Native American
Edit
Maize
Strawberry
Sweet potato
Technologies
Edit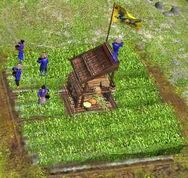 Seed Drill, Villagers gather Food at Mill 15% faster.
Food Store, Unlocks market.
Seedling, Unlocks home city seed cards.
Flesh Store, Villagers (as a hunter or shepherd) can store animal food in the mill generating more food.