Sufis
(Arabs)



Sufi settlement

Imperial Empires: The Campaigns
Continent
Asia
Unique Units
War Elephant
Technologies
Pilgrimage
Shariah
Fasting
Maps
India
Silk Road
Arabia
Mongolia
East Indies
Himalaya
Civilizations
Sufi Temple or Sufi Mosque is a minor temple or native in Imperial Empires: The Campaigns.
History
Sufism or ' is defined by its adherents as the inner, mystical dimension of Islam. A practitioner of this tradition is generally known as a '. Another name for a Sufi is Dervish.
Classical Sufi scholars have defined Sufism as "a science whose objective is the reparation of the heart and turning it away from all else but God." Alternatively, in the words of the Darqawi Sufi teacher Ahmad ibn Ajiba, "a science through which one can know how to travel into the presence of the Divine, purify one's inner self from filth, and beautify it with a variety of praiseworthy traits."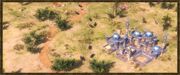 Classical Sufis were characterised by their attachment to dhikr (a practice of repeating the names of God) and asceticism. Sufism gained adherents among a number of Muslims as a reaction against the worldliness of the early Umayyad Caliphate (661-750 CE). Sufis have spanned several continents and cultures over a millennium, at first expressed through Arabic, then through Persian, Turkish and a dozen other languages. "Orders" (ṭuruq), which are either Sunnī or Shī'ī or mixed in doctrine, trace many of their original precepts from the Islamic Prophet Muhammad through his cousin 'Alī, with the notable exception of the Naqshbandi who trace their origins through the first Caliph, Abu Bakr. Other exclusive schools of Sufism describe themselves as distinctly Sufi.
Notes
The two civilizations, Persians and Indians, and Sufis has the same unit: War Elephant.
There are more than 6 Sufi settlements in the map Silk Road map. This means that if you play as Persian civilization in the Silk Road and built Trading Post you will be the strongest.
Sufi Temple is far the strongest minor temples of Imperial Empires.
Sufi Temple's image appears on the official poster of Imperial Empires: The Near East
See also